Sullia: All farmers who have withdrawn money will not be included in the current loan number announced by the state government.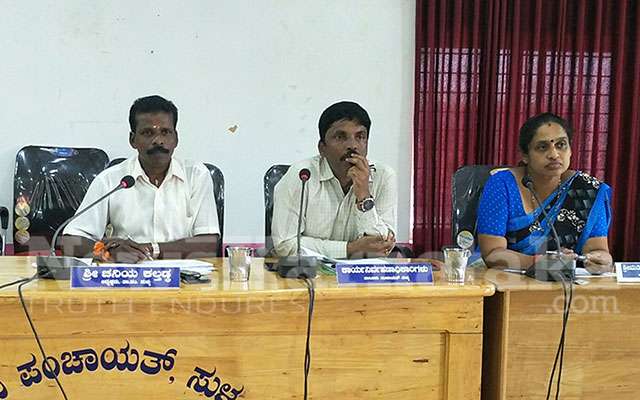 At the taluk panchayat general meeting chaired by Suliya taluk panchayat president Chania Kaltadka, members expressed outrage that the loan waiver is unfair to the farmer's account. Manjunath Singh, Assistant Registrar of Co-operatives Department, who informed the meeting, said that the Sulaya Talukkili loan waiver amounted to a total of 14,114 farmers demanding Rs 118.11 crore. 83.72 crores of which 10,856 were released. Due to the lack of an account number, 7,462 farmers had to pay Rs 58.22 crore. Last week, when it was allowed to upload for three days, 2,953 farmers' account numbers were uploaded. He said the 4,509 farmers' account number will be uploaded by Monday.
58,22 crore for a total of 7,462 farmers, he said. The name of 3,148 farmers was not added to the Green List due to various reasons. He explained that the technical reasons for his account to be financed are now in place. In Dakshina Kannada district, a total of 94,867 farmers are demanding 982 crore. Of this, Rs 350.11 crore was released.
Radhakrishna Bolur, who was present at the meeting, complained that the Department of Cooperation was responsible for the delay in getting the loan waiver to the farmers' account. Member Abdul Ghafoor said it was unfair for the farmers to have money. Member Ashok Nekraje questioned why the cooperative societies have avoided farmers' loans in spite of the loan waiver.
Officials said no such instruction was given to the cooperatives by the department. The President suggested that all farmers be eligible for the loan before the end of this month.